I used to be a trader and scheduler at an energy company that supplied natural gas to residential and commercial customers.  I knew nothing about commodity trading before joining the firm, but quickly learned that it was a complex pricing process when combining financial instruments with physical products.  We were a small company and handled all our customer care and marketing in house, so when asked what goes into natural gas pricing, our blanket answer would be, "weather, supply, and demand".  Natural gas is mostly used for industrial purposes, to generate electricity, or to heat homes and businesses, which is seasonal and weather dependent.
Plotted in the chart below are the daily spot prices of Henry Hub, the main pricing point for the North American natural gas market.  The sudden spike you see in January 2018 was, in part, caused by extreme cold weather.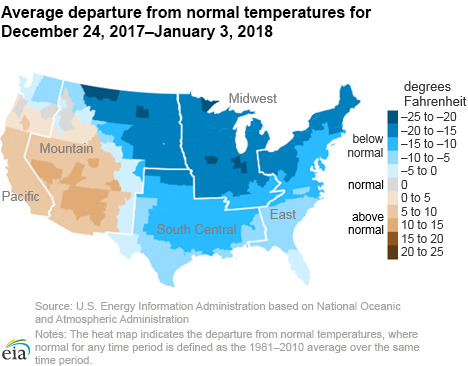 Data
As I developed my data science skills at Metis, I wanted to quantify how much weather really impacted natural gas prices.  To do this, I first had to gather some data.  I got natural gas spot prices from the past three years (Oct 1, 2015 through Sep 30, 2018) through the Wall Street Journal for 5 natural gas hubs.
I compiled this with daily weather from the nearest physical locations using Dark Sky API.  I pulled the daily high and low temperatures (in Fahrenheit), and if there was any, the type of precipitation and the amount of snow.
| | |
| --- | --- |
| Natural Gas Hub | Nearest Physical Location |
| Henry Hub | Erath, Louisiana |
| Transco Zone 3 | Beauregard Parish, Louisiana |
| Transco Zone 6 NY | Linden, New Jersey |
| Panhandle East | Haven, Kansas |
| Opal | Lincoln County, Wyoming |
Continue reading "Linear Regression – Natural Gas Prices and Weather" →